Books
Ford & Mercury Flathead V-8 Identification & Rebuilder's Guide
Joe Abbin, the author of Blown Flathead and 335 HP Flathead Ford V-8 Performance Handbook, has produced this comprehensive new book on flathead Ford engine identification and rebuilding.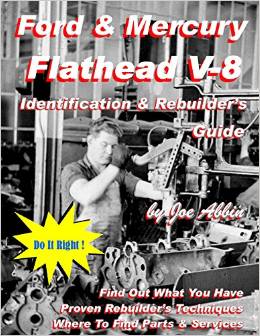 Stock, or modified, this book will be an essential reference for both engine owners and professional engine builders to help them determine what they have, what they need, and how to achieve a successful flathead rebuild to meet any standard.
View Table of Contents
Preview of Major Points
This book is currently available from Roadrunner Engineering, Amazon, and others. Limited Edition, buy it while you can!
This is a softbound, B&W big format, 8.5"x11" book with 184 pages with 184 photos & figures, and 17 charts & tables. ISBN 9780692256602.
Buy it now! Only 5 cents to ship in US!
The Handbook can be ordered for $21.95 with five cent shipping and handling to U.S. only. Ships next day after order received in most cases. Allow 1 week for delivery.
Pay by check or money order to the address below or use the Buy Now button (U.S. only) to use your credit card or PayPal.